About LE ORE!
It is world famous for the mastery of its workmanship, the inspiration with which it fulfills every project and the sensitivity in treating and arranging the most precious materials. Works which always retain all the exceptional cultural inheritance which has made Italian marquetry, and that of Bergamo in particular, the absolute reference point for quality and imagination, scrupulousness and constant striving after excellence, in materials as is arrangement, in structural choices as in finishing. This is why the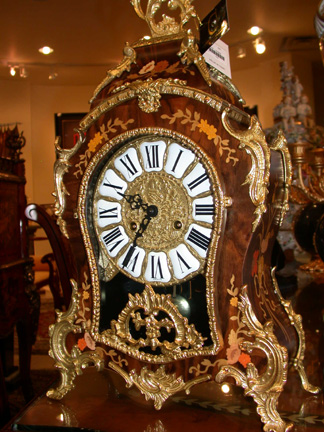 wonderful creations signed LE ORE embellishes the most beautiful buildings and houses in the world, environments intended for high-level meetings and private rooms where everything refers to the artistic sensitivity and taste of the owner. One in which every work, starting from the extremely famous clocks, establishes a favored dialog between whose who experience it and those who merely observe. The secret of the works signed LE ORE lies in restating the expressive themes that have made Italian are unique in the world, then adding precise harmonious references to North European, Oriental and Middle Eastern cultural styles.
The effect is grandiose due to its elegance and inspiration. It communicates not only wealth and authority, but passion for things made in a thoroughly workmanlike fashion which dominate and change time. Even today the entire manufacturing process is done by hand, starting from a very stringent selection and pre-processing of materials, semi-precious stones, fine woods such as briar, ebony, rosewood and palisander, mint gold, mother-of-pearl, tortoiseshell and shells from the deepest ocean beds. Materials which come to life in a precise design, in which each matching follows an aesthetic and expressive logic which boasts centuries of history and which brings to life values which no machine or artificial intelligence can ever equal.
As it is easy to imagine LE ORE only makes use of true specialists, lovers of beautiful things and collectors from all over the world with whom an equally intense dialogue to that guarantee by their own work is established. From this point of view, too, LE ORE restores one of the most noble and important elements of Italian artistic tradition: offering the customer the chance of going beyond the simple purchase, making him a participant in the act of creativity itself. LE ORE is always to supply all the ingredients for totally enjoying the work, the commitment of the LE ORE staff is that of being always ready to create even the most original and innovative request.